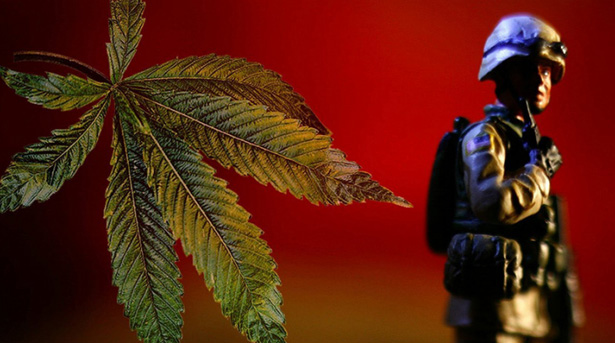 Veterans
Military veterans who wish to use cannabis for pain relief sadly remain caught in the crossfire between state and federal law. ...But the cavalry may be on its way.

Though several states have approved the use of marijuana for medical and/or recreational use, federal law still classifies it as a Schedule One Controlled Substance, making it illegal nationally. As a result, healthcare providers may not recommend nor assist veterans in obtaining it.

The rub is that Veterans Administration (VA) clinicians can only prescribe medications that have been approved by the FDA for medical use. At present, most products containing tetrahydrocannabinol (THC), cannabidiol (CBD), or other cannabinoids are not approved for this purpose, according to the agency. Thus, VA clinicians may not complete paperwork required for veteran patients to participate in state-approved marijuana programs, the system's pharmacies may not fill prescriptions for medical marijuana, and the VA will not pay for medical marijuana prescriptions from any source. The use or possession of marijuana remains prohibited at all VA medical centers, locations and grounds. At present, 37 states allow medical cannabis, 83% of U.S. veterans support medical cannabis programs -- and 0% of Veterans Administration facilities provide medical cannabis.

It's a big shame. Over the years, veterans have often reported using cannabis to treat symptoms of chronic pain and mood disorders, like post-traumatic stress. Clinical and observational data supports the use of cannabis treatment for these indications. Early this year, the journal Frontiers in Psychiatry reported on a retrospective naturalistic study. "We followed 14 relatively mature (32-68 years of age), treatment-resistant, chronic combat post-traumatic patients who remained severely symptomatic despite treatment with many lines of conventional treatment prior to receiving medicinal cannabis… After treatment with cannabis, total sleep score, subjective sleep quality, and sleep duration significantly improved… Total PTSD symptom score and its subdomains (intrusiveness, avoidance, and alertness) showed (also) improvement."

CAVALRY?
Help may finally be on the way.

In mid-February, members of the U.S. Senate's Veterans' Affairs Committee moved forward with legislation directing the VA to conduct research evaluating the safety and efficacy of cannabis products for veterans suffering from chronic pain and posttraumatic stress.

The bipartisan legislation directs the VA's office to conduct a large-scale observational trial assessing veterans' use of cannabis, and to report on its ability to mitigate pain, improve sleep, and influence subjects' intake of prescription medicines or alcohol, according to norml.org. Identical legislation is also pending in the House of Representatives.

"Recently conducted observational trials in Israel and the United Kingdom have documented improved symptoms following the use of cannabis products among patients with post-traumatic stress," the group noted. "These outcomes include statistically significant changes in sleep quality and anxiety, fewer nightmares, and improved quality of life."

Beyond that, dozens of observational studies document patients' reduction in their use of prescriptions drugs, particularly opioids, and other controlled substances following the initiation of cannabis therapy. "Numerous placebo-controlled trials also document the ability of either inhaled or vaporized herbal cannabis to significantly mitigate pain in various patient populations, including those suffering from HIV, diabetes, spinal cord injury, or with severe treatment-resistant neuropathy (nerve pain), NORML executives pointed out. "These positive results have been replicated in clinical trials utilizing relatively low doses of cannabis, as well as in trials using plant-derived cannabis extracts."

The pending legislation further directs the Secretary of the Veterans Affairs to assess the ability of the office to coordinate prospective, FDA-approved clinical trials evaluating the safety and efficacy of cannabis flowers and plant-derived extracts in veterans.

"Were such trials authorized to go forward, investigators would be providing participants with cannabis products provided by federally-licensed producers and comparing the outcomes associated with those products with a control group," the organization explained. "Patients suffering from post-traumatic stress typically acknowledge consuming cannabis at rates far greater than those reported by the general population."

INEFFECTIVE, ILL-PREPARED
The need for such legislation is long overdue.

"America's prolonged military conflicts over the past 17 years have exposed an aging and ineffective healthcare system, ill-prepared for the type and severity of the latest round of war-related injuries," according to a group called The Veterans Cannabis Project (VCP). "Upwards of 20% of the 2.7 million Iraq and Afghanistan veterans will experience post-traumatic stress or depression, according to the VA. The VA is not equipped to effectively or comprehensively treat the complexity of every veteran's mental and physical wounds, leaving former service members to cope with limited and inadequate treatment options. Veterans are often placated with 'cocktails' of prescription drugs, including powerful and addictive opiates. The current arrangement is not meeting veterans' healthcare needs."

Medical cannabis, on the other hand, is "a proven, safe and common-sense personal health-management option, free of the devastating side effects of opiate-based drugs," VCP explained. "It… is recognized by experts such as the American College of Physicians, the American Public Health Association and the American Nurses Association as a safer alternative to many federally legal treatments. Medicinal cannabis is an incredibly effective tool for veterans challenged with managing the symptoms of their wounds.