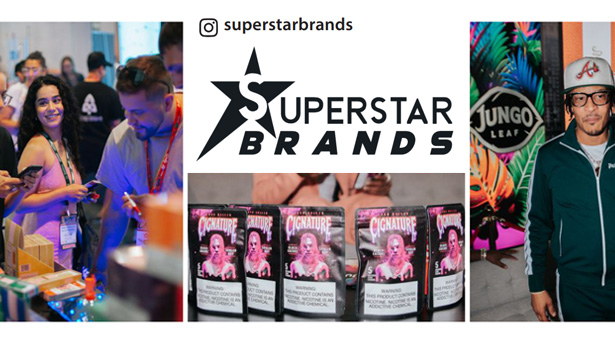 Superstar Brands
If you have not become acquainted with Superstar Brands yet, you are sure to recognize them and their all-star lineup of celebrity brands very soon. Superstar Brands just debuted this year with a launch fit for the stars at Champs Tradeshow in Las Vegas! The company initially was created as a vehicle to escort particularly high demand, celebrity driven products to the Counterculture market.

These flagship brands include: Birkinz, Cignature, Narkedo, Jungo and Sharklato. Based in Atlanta, GA, Superstar Brands emerged in support of local ATLiens Quavo and Yung Marley, who each have an exclusive artisan cannabis strain available in California (Birkinz by Quavo, and Sharklato by Yung Marley). With the success of these top tier brands exceeding expectations, it became obvious that the popularity of these artists extends nationally, with a need for branded products that can be put into the hands of their fans on a larger scale. Superstar Brands stepped in to introduce a more widely accessible counterpart of these cannabis products to the public, beyond the dispensaries in California.

The popular hashtag #NoBrokeSmoke was spurred by Quavo in reference to his brand, to exemplify the luxury aspect of his products. Inspired by the luxury bags, Birkinz by Quavo features Delta 8 and Nic vape disposables that embody the mindset of living life extravagantly, without breaking the bank. From the leather like finish on the vape hardware, to the quality e-liquid inside, Birkinz by Quavo brings a level of opulence to the retail market. Sharklato and Narkedo also offer Delta 8 2ml disposable vapes that are available in a variety of flavors reminiscent of the hard-hitting strains they were created to emulate. Birkinz by Quavo features 15ml Nic vape disposables with 4,000 puffs, available in a variety of the most popular fruity and icy flavors.
"We're proud of the momentum each brand is building since debuting at Champs last month in Vegas. The largest feedback we have received is that our prices are comparable to other similar items available on the market, even with our notable celebrity influence." Kay Parker, Sales Manager at Superstar Brands points out.
Kay, and her colleague Edward "JB" Momoh, head up sales and marketing at Superstar Brands. With their experience presenting products at tradeshows, the duo are experts at driving intrigue and attraction to new products. Even they were very impressed by the organic excitement created around the Superstar Brands' booth at the tradeshow. Customers had the opportunity to test the products at CHAMPS, where the team received strong positive reviews about the flavors, aesthetic, and overall quality.

Superstar Brands is a company that understands the importance of an excellent marketing strategy. Their platform supports retailers by utilizing their celebrity partnerships, paired with reliable products. The celebs that work with Superstar Brands to bring their products to market boast millions of followers on social media, capturing a huge audience. These exclusive brands are purposefully designed to sell themselves, backed up by exceptional product quality that will maintain repeat business. The company is also working proactively with large chain stores to develop trending in-store marketing materials for their retailers.

Superstar brands has plans to impact the global market in the future, extending their reach to international markets such as Europe and Latin America. Superstar Brands intends to showcase their lineup of industry interrupting brands at the country's top industry trade shows. To name a few, you can expect to see them at Champs Tradeshows, Alt Product Expo, and ASD. Keep an eye out for the next big brands that are coming down the Superstar Brands pipeline soon; Jungo Leaf, featuring whole Habano Leaf by Quavo & P.A. Leaf by Takeoff, and Cignature cigar, which will be designed for and by top celebs like Soulja Boy and T.I..

To get your hands on Superstar Brands products, you can contact orders@superstarbrands.com or visit their website at: www.Superstarbrands.com. Social Media: IG @superstarsbrands