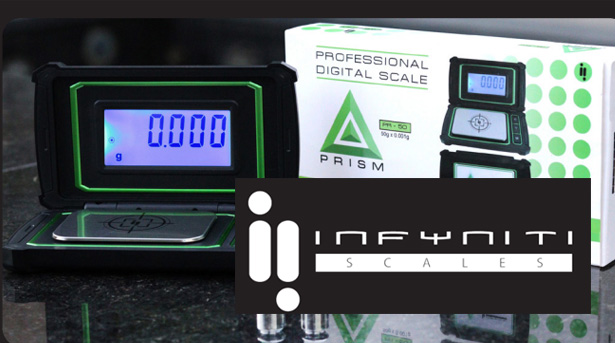 Infyniti Scales
Infyniti Scales is the premier scale manufacturer for the counterculture industry, providing the ultimate variety of scales to fit every smoke shop need. Their parent company has been in the scale business for over 40 years, guaranteeing top quality and performance of each and every scale they produce. The Infyniti brand was created in 2010 as a natural extension of their parent company to broaden their scope to the smoking accessories industry. Since then, Infyniti Scales has positioned themselves as one of the largest scale providers on the market, offering retailers premium products and eye-catching licensed products that sell themselves.

In addition to being an accomplished manufacturer of scales, the Infyniti brand also carries officially licensed products utilizing some of the biggest names known to the smoke shop industry. The team behind Infyniti knew that they would stand out by offering uniquely branded merchandise that other suppliers do not have, supplying the market with exceptional novelty and specialty scales. These exclusive licenses include huge names such as Notorious BIG, Death Row Records, Cheech and Chong, Protect Ya Neck Records - Wu-Tang Management, Woodstock, and The Tragically Hip. The celebrity influence behind these products easily promote sales to a targeted audience that shop at these stores, which is why they are Infyniti Scales' top selling products.

Infyniti offers 3 main types of scales: Licensed Novelty Scales, Pocket Scales, and High Accuracy Triple- digit Scales. The Pocket Scales series offers a cost-effective line of scales such as the Thrift (60g X 0.01g), the Mini (100g X 0.01g), the Virus (50g X 0.01g or 500g X 0.1g), and the Bolt (100g X 0.01g or 500g X 0.1g). They also offer higher quality Pocket Scales such as the Executive (50g X 0.01g or 500g X 0.1g), the G-Force (100g X 0.01g or 350g X 0.1g), the Mobile (300 g X 0.01g or 600g X 0.1g), the Panther (100g X 0.01g or 600g X 0.1g), and the Prism (300g X 0.01g or 50g X 0.001g). All of Infyniti Scales exhibit a very low failure rate, which is backed by their 30-year manufacturer's warranty. In order to provide retailers with the best assortment of scales for their unique location and customer base, Infyniti will work with retailers' budget to curate the best wholesale order for each customer.

Most of Infyniti Scales' competitors do not back up their scales with a lifetime warranty like Infyniti does. That is because scales are not an easy product to manufacture with precise accuracy. Infyniti Scales come from a long background producing the finest scales on the market. To inform customers, they include a warranty card in every scale box, allowing the end user to exchange a scale with Infyniti directly, or through the retailers, which will always be honored by Infyniti. In addition, they offer great margins on their products for retailers. The company is proud to boast excellent product performance and quality, always implementing innovative designs and creative artwork on their scales that 'wow' retail customers.

Infyniti Scales is currently developing new merchandise that will be released in 2023, including their newly licensed High Times Magazine merchandise, which will consist of exclusively branded scales and rolling trays. In fact, they are preparing to launch a full line of officially licensed rolling trays in Q1 next year. Their professional in-house graphic team is hard at work designing masterful art pieces to be displayed on the licensed trays. Although they are located in Mississauga, ON, Canada they are geared up to ship their scales and rolling trays all across the US. You can check out Infyniti Scales in person at the upcoming Champs Trade Show in Daytona Beach Florida, or at SSE in La holla, California. You can also visit their website at infynitiscales.com to sign up for a wholesale account and gain access to their full catalog now!