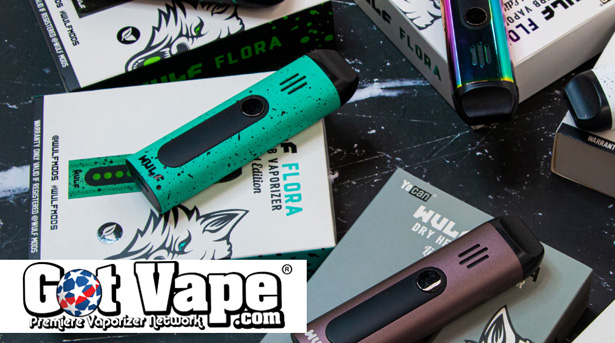 Got Vape Wulf Flora
The Wulf Flora is Blossoming Ready to be the best shop on the block? Stay on trend and attract your buyers with one of the most flavorful dry herb vaporizers out there! Known for its fast and remarkable traits, the Wulf Flora is a limited edition portable vaporizer specifically designed for dry herbs.

The Flora is an all-new, innovative device that presents powerful haptic feedback and quick preheating features. This vaporizer includes an OLED display that indicates its 5 different temperature control levels depending on how your customers would prefer their herbs to vaporize. The Flora's main control button reads the amount of times it has been pressed on—five rapid clicks is to turn on/off, two rapid clicks for raising or lowering 5 heating levels, and holding the button allows for preheat functionality.

Once packed with all the goods and your customers have chosen their temperature setting, the Flora's haptic feedback lets them know that it is heated and ready to be enjoyed! After one puff out of the Flora, there is an immediate realization that its inhalation is not like any other. For this reason, the Flora features a detachable ceramic filter to provide a cleaner and smoother hit at all times. In addition to its wonderful qualities, the Flora has a magnetic mouthpiece for easy attachment and secured hold. This vaporizer

also includes a Type-C charging port for quicker charging capabilities. A prominent quality that will stand out to your customers is the Flora's quick heating performance. Its heating function is known to be top-notch with its fast charge of less than two hours, and its rapid preheating capability.
"This vape took me back to my youth when I had my very first dry herb device. However with the Flora, I felt like I had evolved and blossomed into an adult woman! It gave me nostalgia of my previous vaporizer as soon as I took my first hit—a pure crisp in my tastebuds!" said Kaitlynn Pittman of Azara Hookah.
Your customers will love this device as soon as they lay their eyes on it! Not only does the Flora work well with its high quality effects, but this vaporizer comes in 11 different and unique colors such as TealBlack Spatter and Full Color. The Flora is perfect for flaunting its vibrant colors and puffing cheerios. With its petite size, the Flora is ideal for customers who are always on the go. This vaporizer is great for all kinds of events, from rock shows, parties, or hiking trips— you name it! The Flora is also recommended for beginners—ones who are looking for a new way to enjoy their sessions with friends.

Known to be one of the most striking dry herb vaporizers on the market, the Flora is the product that you will want to sell in the front of your counters. The Wulf Flora is definitely a product you won't regret having, get ready to sell out! Grab your Floras online at GotVapeWholesale.com!

Review By: Julianne Bautista / jbautista@gotvape.com www.gotvapewholesale.com