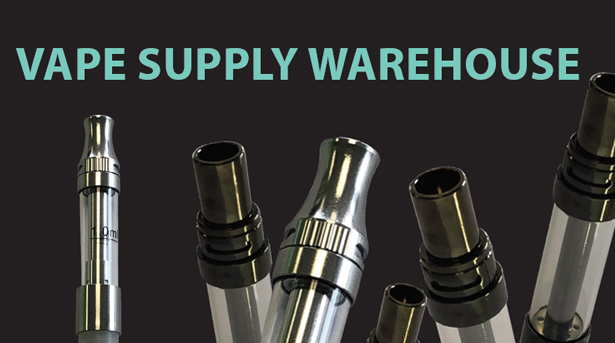 Vape Supply Warehouse
Matt Toma, founder of Vape Supply Warehouse, came to the industry from a background of SEO and Information Technology for one simple purpose: to bridge the obvious gap between many retailers and the vape pen and cartridge suppliers overseas.

Matt watched as his friends in the vape industry fell victim to consistently overpriced, low quality cartridges and vape supplies that came from other suppliers, and thought it just wasn't fair. This sparked his imagination to design a better solution for his friends and many other retailers. The result was Vape Supply Warehouse, a US based (Chicago, Il) supplier that offers quality vapes and cartridges at a fair price, leaving the guesswork out of the process for retailers.

Since being established in 2017, Vape Supply Warehouse has grown exponentially. They gained many new customers through simply offering lower prices for the same products they were getting from competitors, and at a fraction of the shipping time. Usual shipping time at Vape Supply Warehouse can be as fast as 2 or 3 days, does not exceed 5 days for custom logo orders, and they even have overnight shipping available (as opposed to the standard 3-5 week shipping wait time from China). Matt attributes their rapid growth and continued success to great customer service and customer education. As a small company being run from the ground up, their team has been able to provide lower costs for consistent quality. They are committed to being accessible to their customers, making it a point to always answer their phone for customer inquiry, whether it be an existing customer with technical questions, or an interested party wanting to place a new order. They noticed that many customers were pleasantly surprised to be able to actually speak to a representative when they needed help, and realized this wasn't a common practice for many of their competitors.
Vape Supply Warehouse's top selling, top of line cartridges are without a doubt, the Amigo Liberty V9 and the Amigo Liberty X5. These are 5 Star Grade Cartridges that boast no defects and no leaks practically guaranteed (less than 1%). The Amigo Liberty V9 cartridges are one of the best cartridges on the market, known for their very high quality. The ceramic coil is built into the metal rod which is completely removable and makes it very easy to fill. The V9 has the lowest leak rate in the industry, thanks to its solid, heavy, and quality craftsmanship.
The entire metal rod is removable, and the coil is built into the metal rod which eliminates any leaking potential. It features a measuring line that makes filling much easier, and gold-plated connectors ensure optimal connection to the battery. These Amigo Liberty V9 vape cartridges are offered in both 0.5ml and 1.0ml sizes (which are the most common sizes of vape cartridges on the market). The Amigo Liberty X5 cartridges are different from other cartridges on the market, mainly because it has a total of six oil holes, while other cartridges only have two or four holes. These extra oil holes allow oil to flow over the ceramic coil more evenly. It also allows more oil to enter the ceramic coil area resulting in larger vapor production. These cartridges feature the new T-core metal rod technology. Unlike other cartridges that have the oil holes drilled on the metal rod, these X5's have the oil holes drilled into the metal disc that sits flush with the bottom where all the oil sits. This cartridge guarantees that every bit of oil is used and that nothing goes to waste. The Amigo Liberty X5 cartridges are available in 1.0ml (1 gram) and in two colors; Gun Metal or Silver, and features a T-core metal rod, T cell fast heating, and adjustable top airflow.

Vape Supply Warehouse's top selling Vape Pen Battery is the Black 650 MAH Battery. This push-button vape pen has an extended battery life and a higher voltage compared to the 280mah slim automatic vape pen. It is very simple and user friendly, coining the standard method of 5 clicks to turn the battery on and off, with a blinking indicator for auto shut off, and works with any 510 thread cartridge. A full battery should last 6-8 hours, and takes 2-3 hours to fully recharge. These Vape Pen batteries can be ordered individually, or in bulk for as low as $2.49 each.

Vape Supply Warehouse is excited to now be offering in-house Custom Logo Printing options! Their UV printing machine can print high quality, full color logos on all 3D objects like USB chargers (which work great for promotional items) and the vape pens, or even the cartridges themselves. They also have a very experienced print designer from a personalization company on staff to ensure the highest quality of printing. A custom logo promotional USB charger can be designed for as low as 60 cents to $1, and a custom logo vape pen battery for as low as $1.50-$2.00 each. For more information, you can always call the Vape Supply Warehouse phone at (707) 499-1981 or visit their website at vapesupplywarehouse.com.

Vape Supply Warehouse's "5 Star Grade" Cartridge Vetting Process:

There are very few vape cartridges that make the 5 star grade. In order for a cartridge to receive this title it must pass the following tests:

1) The cartridge must not leak whether the oil solution is thick or thin
2) At least 5,000 units have to be sold with less than a 1 percent defect rate
3) Cartridge must come from the same manufacturer with a proven track record
4) No customer complaints