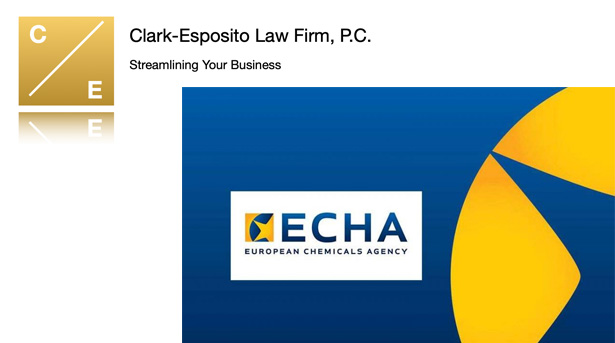 What U.S. Exporters Need to Know about Chemicals Reporting in the EU
What U.S.-Side Suppliers Need to Know About Certain Substances Bound for EU Markets

European Reporting Requirements for "Substances of Very High Concern"

Importers, suppliers, distributors, and others have compulsory European Union reporting requirements when their products or components introduce certain substances into the European Union (EU). Known as Substances of Very High Concern (SVHC), companies introducing such substances into the EU via products or components are required to report information via the online "SCIP" portal, maintained by the European Chemicals Agency (ECHA) based in Helsinki.

While the legal obligation does not strictly apply to U.S.-side exporters or suppliers, there is an expectation that those exporters and suppliers outside the EU will assist in facilitating reporting by those with the legal obligation inside the EU - such as your EU-side customers or importers.

The reporting requirements are based in the European Waste Framework Directive (Directive 2008/98/EC), and designed first and foremost to encourage substitution of SVHC in the life cycle of products within the European Union. Where substitution is not yet possible, the requirement's aims are to increase EU transparency for dangerous substances in the EU environment, including the waste and recycling streams.

Operators on either side of the Atlantic will need to understand how the SCIP reporting requirements work, and how best to supply the information to ECHA. Even non-duty holders on the US-side are expected to supply their EU counterparts with the required information for reporting – understanding the SVHC list, the potential of new substances being listed, and how reporting works will be increasingly important for U.S. companies exporting to the EU.

To read our detailed breakdown of the SVHC reporting requirements and how US-side market participants can help facilitate reporting obligations within the EU, click the button below.

In addition to the above, please feel free to browse our firm's helpful import/export-related video guides covering a number of other topics on our dedicated YouTube Channel.

We can be reached at contact@clarkespositolaw.com for additional questions related to EU SCIP reporting or exports in general.

Clark-Esposito Law, P.C.
Clark-Esposito Law Firm, P.C. ©2021
1345 Avenue of the Americas, 33 Fl.
New York NY 10105
(917) 546-6997
www.ClarkEspositoLaw.com

DISCLAIMER: The content of this website has been prepared by the Clark-Esposito Law Firm, P.C. for informational purposes only and should not be construed as legal advice. The material contained in this email newsletter is not intended to create, and receipt of it does not constitute, a lawyer-client relationship, and readers should not act upon it without seeking professional legal counsel. The Clark-Esposito Law Firm, P.C., did not produce and is not responsible for the content of off-site legal resources. The materials on this site may constitute advertising under various state ethics rules.