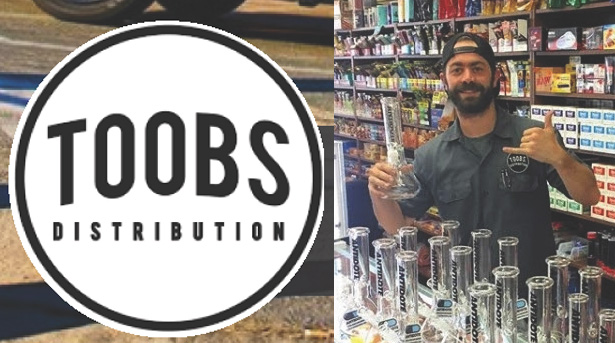 Toobs Distribution
Kyle began his career in the industry himself with an online headshop working with Compton Grinders, and realized brand representation could have been handled in a much more effective way by distributors. This realization led him to make the decision to create a distribution channel that he felt had what it takes to represent brands in a superior way. How does a brand get represented to its full potential by a distributor? Well, Toobs Distribution does it by creating a platform to not only purchase all of the best brands both in store and online, but to also get informed about the products and how to use and sell them. Toobs Distribution takes the time to film informative videos on products so shop owners and employees can be the experts on the products that the consumer needs when they walk into a store. In addition, they stay very active on social media to keep on top of the latest trends, innovations, and to connect with both their direct clients and consumers of the products they represent.

After building their core distribution company's reputation through social media, Toobs Distribution exhibited at their first Champs Tradeshow in October 2017. One of Toobs' strongest values is to consider the consumer. That's why everyone working on the Toobs team are consumers themselves who care a lot about quality control, and their sales people have a real passion for the industry with a drive to continue education on the newest products and trends. It's also why they've made themselves as easily accessible to customers as possible. At Toobs Distribution, they are so involved in the industry that their team scours the market for the newest, coolest, and most unique brands to offer their retailers. One example would be Antidote Glass, a brand that Toobs is proud to be the master distributor for. Antidote Glass is an all American made Glass Company that specializes in scientific glass, recyclers, and rigs based out of Anaheim, CA. What started as a small local company, grew to become one of Toobs Distribution's top selling brands with over 1,000 pieces sold per month. Whenever an Antidote Glass piece is purchased, they donate a percentage to various charities like Cannabis Cancer Research, Hurricane Harvey, and Children's Toys for Christmas. Not only can shops and customers feel good about their purchase, but it also goes to show how much these companies care about giving back.

One of Toobs' other top glass brands are Mav Glass, a popular local California brand, which Toobs offers an easy to shop catalog for, and bundle deals that shop owners can take advantage of to receive a great discount. Another top selling brand they carry are Glob Mops, which have been their #1 selling Q-tip for bangers. Toobs has had the pleasure to sell RAW products since they started and will continue to carry every product that RAW comes out with. One of their newest products is Cannapods, the first CBD jewel pod with locally sourced hemp, available in 7 different flavors. Another new addition to the Toobs family is Coffin Cases, a hard case that can be depressurized for keeping glass safe. Their latest innovative launch is called Smoke Science, the first ever Liquid Nano-technology Wipe for glass that will cure it to become stronger and resistant to shattering. As you can see, Toobs Distribution is truly dedicated to offering the largest selection of high quality brands to retailers. Not to mention, any order over $420 will earn your shop free shipping!
Speaking of the dedication Toobs Distribution has toward keeping a variety of awesome products available, that same dedication translates directly to the relationships they maintain with their customers. The Toob's team prefers to treat their customers like family, making themselves readily available and are quick to respond whether it be through Instagram, Facetime, or taking the time to hang out and touch base around tradeshows.
Because they aim for constant improvement, Toobs won't claim to be perfect, but would rather try to resolve and make better any issues that come up as their business grows. After being in business for less than 2 years, they can already boast a 78% customer retention rate, which clearly proves their company does it right. The team at Toobs Distribution is a fun and quirky crew who are true fans and consumers of the industry who know how important it is to have an open mind as the times and industry change. They may be a new distributor within the industry, but they have your best interest as a retailer at heart, and have earned the trust of store owners all over the country because they offer only the best products that they believe will sell. With their only current location in Southern California, they are now looking to expand to an additional location on the east coast to minimize wait times for shipping. They are also re-doing the website for 2019 in order to add more organization, customer features, and products. These positive changes in their company are all the more reason to take a chance and see the difference. Keep an eye out for more glass coming out soon, and be sure to check them out at the upcoming Champs Tradeshows and The Big Industry Show in 2019 or visit their website anytime at www.toobsdistribution.com.