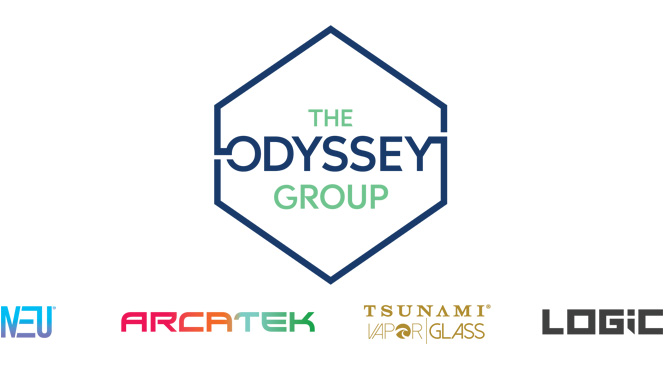 The Odyssey Group
Home of Tsunami Vapor & Glass, NEU Pipes, Arcatek Glass, and LOGIC .

In 2011, Scott Elias and Ronnie Samoa founded Tsunami Premium Vapor, with the goal of becoming a leading manufacturer and distributor of e-cig and vaporizer products. What originally began with only 1 product, a disposable e-cigarette called 800 Puffs, has since expanded to become The Odyssey Group, a conglomerate of 4 brands- Tsunami, NEU, Arcatek, and LOGIC. Their success and notoriety as a reputable brand within the industry has led them to growing their company to over 1000 SKUs, 30+ employees, and a state-of-the-art distribution center.

The Odyssey Group focuses on selling product direct to B2B distributors, wholesalers, and retail stores. That has always been their goal and focus. With The Odyssey Group, retailers can expect consistent high quality merchandise, from a variety of categories of products that suit the most common needs of any smoke shop. The Odyssey Group owns and operates these Brands: .

Tsunami Premium Vapor & Glass – Luxury vaporizer and glass water pipes .

NEU Pipes – Funky silicone and glass rigs with unique designs and UV/glow features.

Arcatek Glass - Super thick, 9mm glass water pipes for ultimate durability.

LOGIC – All natural Kratom supplements.
The Odyssey Group puts packaging on the top of their priority list. Scott Elias says, "We believe that the packaging and first impression of a product makes the initial sale. While the quality of the products creates a repeat customer. Because of this, we have a strong focus on the packaging and quality of all of our products." With this in mind, all glass products come individually bubble-wrapped and packaged inside custom boxes. An added perk is that all their concentrate rigs include a Quartz Banger with a Carb Cap. This ensures that the end consumer is able to enjoy their new piece at home, without spending any more on accessories.
As for the quality, The Odyssey Group stands behind all their products by offering at least 1-year warranties, while the majority of electronic items carry lifetime warranties. All of the unique and extraordinary glass water pipes are designed and developed in the United States. They also have a dedicated support and warranty call center with live chat, email, and phone support to take care of all the needs of the end consumer. .

In a continued effort to make the customer experience as smooth as possible, The Odyssey Group is happy to exercise a lot of flexibility when handling customer requests. They can accommodate their customer with placing orders in whichever way is easiest for them. Their experienced sales reps are ready to take calls over the phone, text, email, or even by fax. They encourage customers to place orders online, where they can have full access to the current inventory available in real-time and view their order history. Additionally, as an incentive they offer loyalty points on all online orders (instant 5% cash back in Odyssey Points!). .

As a company that cares a great deal about their customers, The Odyssey Group also cares a great deal about their community . The Odyssey Group is an active contributor to many charities and non-profits including Toys For Tots, Bark Nation, Adopt A Refugee, and Samaritas. .

The Odyssey Group has been working tirelessly to expand their operation with even more to offer their customers. In September, they will be introducing 95 new SKUs for their new CBD line, which will include topicals, edibles, tinctures, and vape cartridges. All of their CBD is grown and extracted in the United States, with each batch independently lab test and available for public review. Keep an eye out for this exciting line expansion from a company you know and trust. For more information about The Odyssey Group's lines of quality products or to place an order, please visit their website at www.togwholesale.com or give them a call at 877-831-2917.