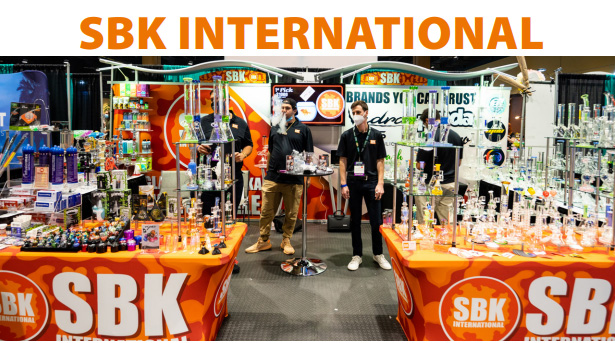 SBK International
SBK International is a wholesale vendor that has changed the lives of three brothers, forever! Founded in 2013, brothers Sammy Amor, Ben Amor and Karim Amor, created SBK International, hence the name, as a wholesale vendor for their expanding smoke and vape shops throughout the state of Georgia. The brothers used SBK International as a means to get through college, but they were not expecting the massive influence this wholesale vendor would have on the world of smoke and vape. Fast forward to present day, Sammy, 26, Ben, 29, and Karim, 24, manage SBK International as the wholesale hotspot for many smoke and vape shops on a nationwide scope!

The Amors knew that owning and running a smoke / vape shop had its own setbacks and challenges. For example, they found that having over 8,000 SKUs and trackable inventory was a lot to keep up with! That's why SBK International was born. SBK International made a huge impact on the capacity and efficiency of inventory management for the Amors and their smoke and vape shops. However, this was not the end for the brothers and SBK International.

As the brand began to grow in popularity through word of mouth, SBK International soon began to make waves on a national scale with trade show debuts! Throughout the years, SBK International has outgrown their OG 6,000 square foot warehouse and has made their way into an upgraded 40,000 square foot warehouse with plans of expanding in the near future. Warehouse size is not the only thing that SBK International has outgrown. SBK International now supplies inventory for over 500 accounts in the United States in comparison to its traditional, self-serving role!

What makes SBK International stand out in comparison to traditional wholesale vendors is its staff's investment and knowledge of latest trends and customer desires! By keeping their roots planted in their niche, SBK International is filled with smoking connoisseurs ready to provide high quality glass, hookah, and vape products at a feasible price with insanely fast delivery times. Knowing their niche is extremely important to the Amors, which is why they have specialized in creating their own brands such as MOB Glass, Panda Punch, Vadra Hookah, and Long Beach Hemp Co. that have soared in popularity over a short span of time!

The three brothers at SBK International go above and beyond ordinary companies by creating a 'one of a kind' culture with their brand. While working, visiting, or communicating with the Amors and the team at SBK International, you're bound to feel right at home with their tight-knit culture. Though SBK International has expanded beyond imaginable means, the Amors take great pride in making their staff and customers feel as part of the family! You can always count on the brothers greeting anyone, and everyone, with a fist bump paired with a smile.

The personable characteristics and familial style of SBK International is one of the many reasons why SBK International welcomes and encourages you to meet up with the team and founders at TPE and CHAMPS Trade Shows this summer! With a team of enthusiastic professionals ready to make you feel right at home, SBK International is here to serve you with the best of the best experience.

SBK International.
Founded by smokers,
for smokers.