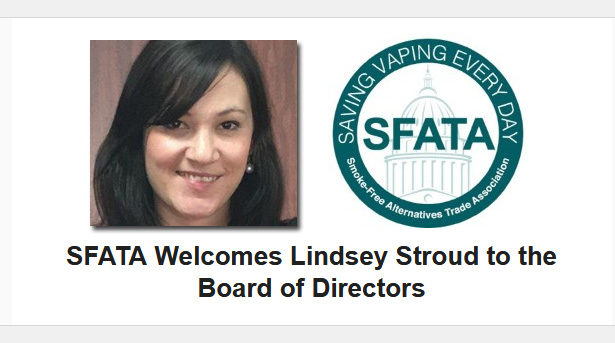 SFATA Welcomes Lindsey Stroud to the Board of Directors
The Smoke-Free Alternatives Trade Association (SFATA) is pleased to announce that Lindsey Stroud, known throughout the vapor industry for her work with The Heartland Institute, will be joining the SFATA Board of Directors, effective immediately.

Lindsey was appointed to fill a vacant seat in accordance with SFATA's by-laws.

Ms. Stroud has a strong background in government relations and legislative policy. Lindsey is a welcome addition to the Board of Directors and plans to use her skills to assist the members of the trade association in current affairs and the vapor community at large.

More About Lindsey Stroud:

Lindsey Stroud is a State Government Relations Manager at The Heartland Institute, which includes marketing the work of the Government Relations Department, as well as providing research and analysis to state lawmakers.

Stroud's extensive work on tobacco and vaping policy includes authoring, "Tobacco Harm Reduction 101: A Guidebook for Policymakers," in addition to co-authoring, "Vaping, E-Cigarettes, and Public Policy Toward Alternatives to Smoking." Lindsey conducts numerous analyses on tobacco harm reduction, including a 50-state analysis of the vaping industry. Her work has appeared in outlets across the United States and in various international media outlets.

Stroud has hosted events in state capitols across the country, addressing legislation that restricts adult access to vaping and e-cigarette products, and she has testified before multiple legislative committees.

Stroud is also the host of The Heartland Institute's "Voices of Vapers," a podcast in which Stroud interviews numerous tobacco and tobacco harm reduction policy experts and advocates.

Prior to working for Heartland, Stroud worked as a legislative assistant to a Minnesota state senator and as a session staffer for a Virginia state delegate. In 2012, she interned for a U.S. congressman in Virginia.

Stroud is also currently a board member for THR4Life, a 501(c)(3) that promotes tobacco harm reduction. Additionally, Stroud was an America's Future Foundation 2019 Spring Writing Fellow.

Stroud graduated magna cum laude in 2012 from Tidewater Community College with an Associate of Arts in Social Science. In 2015, she earned a bachelor's degree in government from the College of William & Mary. While at William & Mary, Lindsey was a staff writer for the Flat Hat News, during which she covered student government.

Stroud also has 20-plus years of food and beverage experience, thanks to her parents, who owned a restaurant when she was in middle school and to whom she owes much of her work ethic.

Lindsey Stroud was officially seated on the SFATA board on February 26, 2020, and began immediately making contributions intended to strengthen the association.
"Lindsey is an intelligent woman who stands on principle and for integrity," said Board President, April Meyers, when asked about the addition to SFATA's directors. "She is a team player, and will fit well into the leadership dynamic. We are looking forward to having Lindsey's unique and fresh perspective."
SFATA Executive Director Mark Anton remarked, "There are few people who can step into the board role at such a pivotal time in the history of the vapor industry and expect to succeed. Lindsey is such a person, and I'm excited to work with her."

Ms. Stroud joins fellow directors, Robert Arnold of Sapphire Vapor (SFATA Treasurer), Lonnie Bozeman of Saveur (on temporary leave), Troy LeBlanc of OMPH Distribution, April Meyers of Northeast Vapor Supplies (SFATA President & CEO), Dave Morris of Vape Gravy (SFATA Vice-President) and Mike Runshe of Giant Vapes (SFATA Secretary).

Please join us in congratulating Lindsey on her new role as we all welcome her to the SFATA Board of Directors.