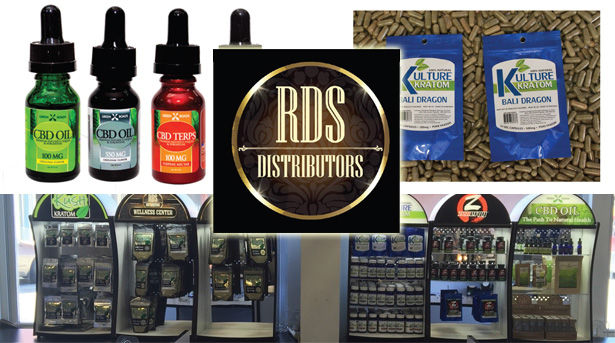 RDS Distributors
724.591.8020
The time is now for Glass Gone Wow (GGW), with success following success and a growth strategy that appears to be firing on all pistons.
In 2015, the company topped the $4 million mark in annual revenue. It now employees 33 team members throughout its organization.
GGW was founded in 2012 by Rick Sallade, starting with a single store located in Cranberry Township, PA. Since its inception, the company has grown to half a dozen locations in three states with an expansion program that includes 13 more stores on the drawing board within the next five to six years.
Sallade remains the majority owner of the company, along with a pair of investors -- Robert Parise and David Campbell – in three of the new locations. GGW recently opened a new distribution center Cranberry Township, known as RDS Distributors, to help facilitate its stores with product with volume purchasing.
"For the first year we were primarily in the elite glass and tobacco business," Sallade recalls. "But with times changing around us GGW has evolved as a leader in the e-cig/vaping world, with a newly developed Wellness Center Department in each of our locations specializing in herbal and organic plant medicines that is growing at a quadruple rate."
Our customers come from a very broad range, says Sallade, "from construction workers to scientists to doctors and many in-between professions." Despite that – or perhaps because of it -- GGW has staked out a very definite niche in the marketplace, Sallade notes.
"We are very, very customer loyal, and take great pride in having knowledgeable staff." Training remains key. "It's fairly easy to educate a staff member on one product line such as vaping, but to offer and train your staff to learn a variety of departments and treat the customer as a true friend with the customer's best interest in mind is a truly good feeling. We have a motto at GGW that says 'perfection is our standard, not our goal.' We also pride ourselves in maintaining bright, cheery and clean stores."
'A NEW DYNAMIC'
By all estimates, 2015 was a big year for GGW. As Sallade notes, "I must say that breaking the $175,000 mark for one month in one store alone was a very exciting accomplishment. I would also mention the fabulous growth of the Wellness Center Departments. It always makes you feel good when you know that you may be helping others in life."
GGW's introduction of the Wellness Centers with exotic herb selection, Sallade emphasizes, "adds a new dynamic to traditional vaporizer shops in Pittsburgh. Our exotic herb inventory includes options to help with many problems, such as Kratom, Kava, Blue Lotus, Damiana and CBD. Our exotic herbs offer many benefits in terms of health and wellbeing."
Blue Lotus is a plant that was popular with the ancient Egyptians. This herb "gives a warm sense around the head and upper body," he explains. "It can also make users feel dreamy, comfortable and slightly stimulated."
Kratom is part of the same family as coffee and native to southeast Asia. It has become popular in Western civilizations in recent years, and is known for its numerous health benefits. These benefits include general pain relief, heightened sense of focus, relief of depression and anxiety, lower blood pressure and a sense of elation.
Damiana is a plant that is native to Mexico and Central America. It is well known for boosting libido and increasing sexual performance.
"The most exciting product we have introduced to date is CBD, with its wonderful health benefits for so many causes," Sallade points out. "While not as popular as other products currently on the market, we believe very strongly that as customers become more knowledgeable, and with all the research and support from doctors and chemists, that this will become one of the most powerful plant medicines God put on this earth."
Sallade says Glass Gone Wow is proud to be a master distributor for selected manufacturers in this up and coming segment. "The knowledgeable staff at Glass Gone Wow can help customers select the best exotic herb that's right for their needs, whether they are suffering from depression or need more energy."
PERSONAL PHILOSOPHY
Sallade's personal philosophy of business was established long ago, as he recalls. "My dad, the wise old man with his sixth-grade education, taught me how to work with people in ways that help motivate and manage them to this day. My dad read, read, read and then read some more."
His advice to colleagues is to "Pick out a mentor of success and study their ways. Read about the great ones." Well-known success coach and author Tony Robbins "taught me to take a more operational approach to business and think outside the box. Learn from others and put in a splash of your own personality."
Among the nuggets of wisdom he has collected from some of the great CEO's, he adds, have been these: Listening instead of talking: "Unfortunately, too many people spend more time talking and not nearly enough time listening. Customers, competitors, partners and employees have a large amount of info if you just listen. You should listen five times more than speak."
Customers are not always right: "This statement may be contrary to the above comment and against everything you've heard or been told, but it's true. That's why you listen and decipher; because a customer wants, needs, or expects something doesn't mean you should deliver it. Doing so might ultimately take your business in a direction it shouldn't be going."
Change is constant, so get used to it: "Change is inevitable in business, and you need to build your business model around it. Hire people who are comfortable in a world of change. Great businesses are able to grow in good times and bad, largely because they're prepared for the unpredictable. And because things constantly change, so must your business strategies."
Don't be afraid to make decisions: "This might seem like an overly simple philosophy, but the number of executives and senior managers that are afraid to make decisions might surprise you. Nothing can paralyze a business more than a leader who is tentative or hesitant about making decisions, regardless of how difficult or scary they might seem."
Business is a Marathon, So Make Sure You Can Survive the Race: "As tempting as chasing monthly quotas might be, the best business leaders are able to focus instead on sustainability and long-term viability, refusing to sacrifice their company's long-term health to win a short-lived sprint."
Your Reputation is Your Integrity — Don't Compromise It: "That's a truism for life as much as it is for business. Your reputation is the only thing you can take with you throughout your career, and maintaining your integrity allows you to cultivate that reputation. Far too many people are willing to sacrifice their integrity for a quick dose of success. Cheating your integrity, however, will almost always bite you in the end."