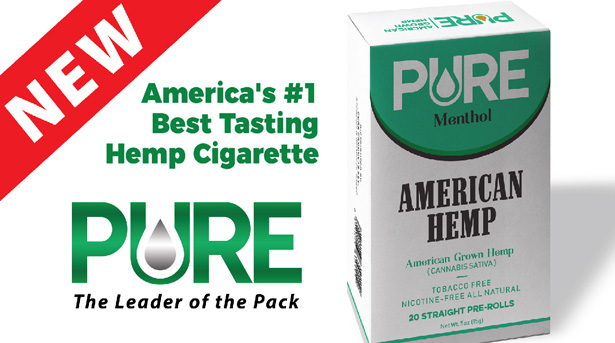 Pure Products
Hemp Stuff USA: Pure Products & HUMO

Founder of Pure Products, Steve Ross, came from a background of niche marketing and sales with a mission of bringing products of quality to the marketplace, and helping build those brands. When he saw how hemp was helping people of all ages with a variety of ailments, he was inspired to shed light on this frontier. This is when hempstuffusa.com was born!

Steve knew that a product of serious quality would be required to stand out among the crowd in a world of up and coming CBD brands, so his first step was to acquire a manufacturing facility that he could count on. The Hemp Stuff USA facility in Sunrise, Fl is ATF Approved (alcohol tobacco firearms), and the whole facility is CGMP, and ISO 9001 accredited. This ensures that the processing and handling of all goods are of the ultimate standards. The next measure of quality assurance is 3rd-party lab-tested results for each batch of products.
Steve believes that labels should be transparent so that consumers can make an educated purchase. In his words, "What's on the package, is what's in the product, we don't mess around!"
Another important measure for Pure Products to really shine is a commitment to upholding a quality presentation. This means complete foil labels, POS boxes, and packaging that exemplifies quality. When customers see the "Pure" logo that is associated with their products, they know to expect true quality. Their goal is "to always bring the very best products to the market that will always bring the customers back for more." It is true when they say that the best compliment a company can receive is return business.

In the past, the top selling product from Hemp Stuff USA have been the Pure Hemp Tinctures. Now, they are streamlining their focus to formulating and designing a proprietary new product, Hemp Cigarettes! These are brand new to the marketplace, and recently, have had increased demand from consumers. The Pure American Hemp Cigarettes are available in Original, and Menthol, and are sold with 20 Smooth Pre-Rolled, Pure American Hemp Cigarettes to a pack, also available with 10 packs to carton. What is truly unique about these high quality hemp cigarettes, is that each one is 100 mm long, which means that you get 20% more product per cig (than a standard cigarette). They also boast no additives or fillers, promising only "the good stuff".

With the success from the release of the Pure American Hemp Cigarettes, Hemp Stuff USA decided to take it to the next level. Introducing HUMO, terpene and flavor infused Hemp Cigarettes. Their in-house flavor masters developed two distinct varieties- Clove, which has real clove infused to offer an authentic flavor experience, and Lemon Haze, which was designed with real terpene infusions. HUMO was officially released and presented publicly at MJBIZCON in New Orleans this June, with new contemporary packaging designed to really pop. After its initial release, Steve Ross feels confident dubbing the HUMO has "The best-tasting hemp cigarette on the market", and now refers to himself as "leader of the PACK"- pun intended.

The HUMO launch has been received as a huge success, making Steve Ross very happy with the overwhelming response from prospective retailers. They are thrilled to be opening international and domestic accounts with big box retailers, and very excited about retailers carrying their products on both regional and national levels. Currently, they are the only brand that offers white labeling options for hemp cigarettes, in addition to their other products, all with multi-level pricing based on the customer's needs.

Hemp Stuff USA will be out and about these next few months to show off the new HUMO Hemp Cigarettes, exhibiting at these Trade Shows: ASD in Las Vegas this July, BIG Industry in Miami this August, and NACS in Atlanta this October. If you don't get to catch them at a show, you can always go to their website www.hempstuffusa.com for more information.