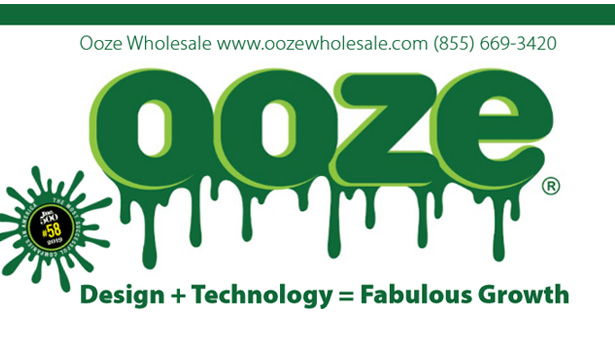 Ooze Wholesale
Design + Technology = Fabulous Growth

Many of us know Ooze Wholesale for their funky bold colors and shapes, however, according to Marketing Director, Eddie Koury; Ooze is truly all about growth. Ooze Wholesale was born in 2015 in Oak Park, Michigan. They are still in the same original warehouse in Oak Park; however, they have expanded dramatically. They initially occupied a 2,000 sq. ft. warehouse with essentially just the four founding partners as staff. Now, they occupy over 42,000 sq. ft. and have grown to over 50 employees – and have plans to hire another 30-40 employees within the next year as well! Their growth has not gone unnoticed. Ooze was awarded the 58th spot on the prestigious Inc. 5000 list of fastest-growing private companies in the US. This award also names Ooze number 2 overall in the cannabis industry, and number 2 in all of Michigan!

Ooze Wholesale was founded by four partners: brothers Steve and Dan Hannawa, Vince Ayar, and George Sinishtaj. All four are still extremely involved in all aspects of the business as they are ever-present in the office. These partners have work hard to make the company what it is, and their massive growth over the past year is a direct reflection of that.

In broad terms, the overarching goal of Ooze Wholesale is to be a one-stop-shop for all smoke shops, dispensaries and convenience stores, while offering some of the most competitive pricing available in the industry. When Ooze first starting out, they encountered a market flooded with either cheap, unbranded products that would break after a use or two, or run-of-the-mill accessories that cost way more than what they thought were reasonable prices. Thus they saw an opportunity to create their very own line of fun, unique cannabis accessories that fit well within the budget of the average smoker.

Ooze's very first products were the Touchless Slim Pen and the EZ Pipe. After seeing how quickly these caught on, they have developed products to cater to every type of cannabis user. Whether someone prefers good old flower, is a dab connoisseur with a love of concentrates, or is looking for the discreteness and convenience that comes with vaping dry herb or concentrates, Ooze has something for everyone.

They've grown their overall catalog to include hundreds of different brands in the cannabis and tobacco industry. If a customer is in search of a specific product or supplies, chances are they already have it in stock at the lowest price around. If they don't, they're always open to sourcing that product for the customer.
"Our aim is to truly be a one-stop-shop for all our customers' needs," says Koury.
Growth has not meant a departure from their original vision. However, they have grown rapidly and see no plans of slowing down anytime soon and their designs do not keep them under the radar. Today, they envision their target market as "everyone in search of fun, colorful products to enjoy their cannabis with", according to Koury, Ooze is bold and funky. "Our die-hard Ooze fans are the ones who are looking for the next innovative product, but not ones that they need to save up for months to purchase. These aren't the people who are looking to keep their habits on the down low. These are the people that love bright, bold colors and funky shapes and aren't afraid to let the world know what they're up to." He adds, "Our line of products includes something for everyone, from a first-time user to a veteran toker."

As far as the wholesale side of the business, their target market is made up of every brick and mortar business that intends to sell cannabis or tobacco accessories. In addition to the Ooze brand of products, they carry thousands of the most popular items available today and are constantly adding more brands and products to their catalog. According to Koury, "Currently, we are looking for vape-only shops that need assistance bridging the gap to become a full-fledged smoke shop. We are experts in this area and offer consulting for these businesses to protect themselves in an uncertain market by expanding their offerings and customer base."

Greater Growth

Vape pen batteries were pivotal to Ooze's start. Eddie Koury recalls, "Back in 2015, there was a market flooded with cheap, generic batteries that had no brand associated with them. We saw an opportunity to create a standard for quality for these devices and developed our Touchless Pen. This is the basic, no-frills vaporizer battery that doesn't have a button. From here, we made the Slim Twist Pen. This is by far our best-selling product; an adjustable temperature battery with a button for inhale control, preheat mode, and 15 different color options. The Slim Twist evolved into the Slim Twist Pro, which includes our battery and a matching wax atomizer tank for use with other concentrates."

According to Koury, "Merging design with technology is our strong point. We have the best batteries on the market and back up each and every one with a lifetime warranty. We also pride ourselves on the innovative designs we develop. Customers obviously are looking for pieces with functioning tech, but they want it to be cool, too. It's natural for us to put ourselves in the customer's mindset, because we are the customer. We create the pieces that we would want to buy in a store and would never release a product we wouldn't purchase for ourselves."

As mentioned Ooze's brand is all about design and technology, bold colors and shapes, which makes silicone an ideal material. They've created an extensive line of silicone products, from hand pipes and dab mats, to bubblers, dab dugouts, and hybrid water pipes. The silicone makes their pieces incredibly durable and great for smoking on the go. Combining silicone and glass elements allows them to create innovative shapes, makes pieces incredibly easy to disassemble and clean, while making sure the glass is in all the right places for taste and safety.

Their most recent additions to their silicone lineup are siliconeglass hybrid water pipes. These include the Kettle, Stack, Steamboat, and Trip. All four pieces feature a glass water chamber with a silicone down stem, and all include both a flower bowl and a glass banger. This allows them to be used as both a bong and a dab rig, catering to any smoker.

Additionally they offer:

A variety of different wax vaporizing attachments and devices in addition to the classic vape pen. Glass globes offer a unique experience with shapes that allow you to see the hit you're milking in the globe. The electronic dab rigs make dabbing so much easier. The compact size makes them ideal for on the go, without the need for a torch. Simply click the button and your dab is hot and ready in just 5 seconds!

Rolling trays that are known for having some of the coolest, most eye-catching designs around. They come out with a new line of designs every year, so each and every tray is a collector's item!

A variety of other cannabis accessories that don't necessarily fall into these categories as well: grinder trays, EZ pipe lighter sleeves, dry herb vaporizers, stash jars, and dabbers are also some of their popular pieces.

In addition to the Ooze brand, they also have their House Brands: King Palm Wraps, Truweigh Scales, Green Monkey Grinders and Loud Lock Packaging. These brands offer products that they feel are of equal quality to Ooze products and make Ooze Wholesale a more well-rounded company in the cannabis accessory market.

Marketing Advantage

Ooze creates its own packaging in-house, to make their products instantly recognizable and make them stand out in the crowd. Their displays put their products right into the hands of potential customers. Because their products are durable and not as easily broken as glass pieces, they can be showcased in their own counter displays, outside of the giant cases filled with hundreds of glass chillums, pipes and bubblers. A customer can simply pick up a Bowser or Sax and take it apart and really get a feel for how an Ooze piece works before they buy. This gives Ooze an immediate advantage over any piece locked inside the case, no matter how cool that piece may be.

Customers may purchase products via the Internet, a printed catalog, or phone. To place an order online, customers must first create an account to verify that they have a physical store location. They will assign a sales representative that can assist with ordering or solve any issues that come up. They also have a Wholesale Showroom that any local businesses can come to and place an order in person.

Additionally, they work with distributors across the country, as well as directly with chains and independent smoke shops and dispensaries. And don't forget their direct-to-consumer website that individual customers can purchase from: www.oozelife.com