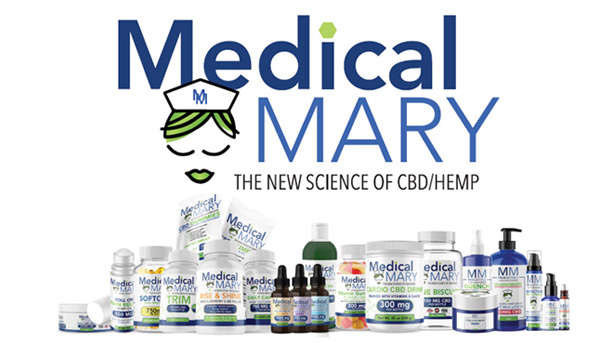 Medical Mary
Medical Mary was established in 2017 in Michigan, born from a passion for helping people minimize their dependency on addictive medications by offering an alternative designed to improve quality of life and general wellness. Now, Medical Mary has expanded to multiple manufacturing facilities in California, Florida, and Georgia. Noman Bean, founder of Medical Mary, became aware of the opioid epidemic as he saw family and friends suffering from this crisis, and then discovered the medical benefits of hemp and CBD. Once seeing how these products were able to help those close to him, Norman felt compelled to follow a mission to create the highest quality CBD products to support a healthy lifestyle for everyone. He even came out of retirement specifically to help the cause once he saw the game changing revolution of hemp and CBD. He founded Medical Mary to create capsules and nutraceuticals that target different needs such as insomnia, anxiety, etc. As Medical Mary and the industry in general gained traction, it increased their ability as a company to formulate more products and expand the line. Their ultimate intention has and always will be to offer the best price, best quality, and best selections.

Medical Mary provides the safest, highest-quality, medical grade CBD products at prices that are fair. Their CBD is derived from US grown hemp, and always includes a COA (certificate of analysis) to prove exactly what the plant contains. Every one of their products are THC-FREE, compliant with existing regulations and produced in an FDA-registered, GMP facility. They're all backed by an ironclad 100% satisfaction guarantee. So if a customer is not completely satisfied with their purchase, they promise to issue a refund right away. In a buyer beware world, Medical Mary finds it important to show transparency on labels and wants to ensure that customers are educated about what their purchase is actually made of.

As a product formulator and manufacturer, Medical Mary is able to offer white label and private label to their customers, without any crazy minimums or high pricing. With a label that is transparent, and all 3rd party documentation provided, Medical Mary is sure they can guarantee better value to their customers.
From the words of Norman himself, "In business, many companies are trying to make a lot on a little, but our philosophy is grounded in trying to make a little on a lot." This is why Medical Mary has been successfully delivering quality products at the best price since the brand's inception. "We won't be undersold, and will offer a price match to give our customers the best of both worlds."
In light of expanding their product lines, Medical Mary is launching their brand new Beauty Product line. They utilized a variety of essential oils in their beauty products to enhance the already therapeutic effects of CBD in a way that will put the body truly at ease. Quench, a Body and Face Spray designed as superfood for the skin is infused with grapefruit and lemongrass along with 250mg of CBD from Medical Mary, and a cocktail of beneficial vitamins such as Vitamin B-3, B-5, Omegas 3 & 7, Vitamin A, Vitamin C, and Vitamin E. Invigorate, Medical Mary's Goat Milk Lotion was designed for intense hydration and anti-ageing effects. The lotions comes in a 4oz bottle, containing 250 mg CBD and infused with grapefruit and lemongrass.

Medical Mary's Foot Care Cream is available in 2oz (with 125mg of CBD) or 4oz (with 250mg of CBD). This topical pain cream is designed to provide fast-acting relief for a variety of conditions that can limit motor function like aching feet, ankles & toes, and arthritic pain. Not only will the user benefit from the properties in CBD, but the cream is also infused with aloe vera, which compounds the natural antiinflammatory power of CBD, modulating the body's immune system to reduce swelling and provide critical joint support, Vitamin A, which protects cells from free radicals by acting as a powerful antioxidant that also keeps the immune system from overreacting to stimulus (which can cause inflammation), and Vitamin D, which is vital for bone and muscle function, and is another natural anti-inflammatory.

The Essential Oils Relief Kit from Medical Mary's contains a total of 200mg of CBD and 4 different mixtures of 100% pure, unadulterated, therapeutic grade, and certified essential oils to create different effects. The kit includes Mood Relief, Stress Relief, Insomnia Relief, and Energize. Mood Relief is deigned to elevate mood and reduce depression utilizing 50mg of CBD combined with essential oils like Geranium Essential Oil, Nutmeg Oil, Clary Sage Essential Oil, Cypress Essential Oil, and Tangerine Essential Oil. Insomnia Relief is made to improve quality of sleep, utilizing 50mg of CBD combined with Marjoram Essential Oil, Lemon Essential Oil, Valerian Essential Oil, and Rose Water. Energize was created to boost energy and enhance focus, utilizing the combination of 50mg of CBD and Clary Sage Essential Oil, Lavender Essential Oil, Eucalyptus Essential Oil, Lemon Essential Oil, Thyme Essential Oil, Peppermint Essential Oil, and Marjoram Essential Oil. Stress Relief was designed to relieve tension and lower anxiety by combining 50mg of CBD with Palmarosa Essential Oil, Bergamot Essential Oil, Lavender Essential Oil, Lemon Essential Oil, Cypress Essential Oil, Grapefruit Essential Oil, Rosemary Essential Oil, Cardamom Essential Oil, and Thyme Essential Oil.

Medical Mary will be exhibiting at a number of industry trade shows throughout the year, so you can meet the team and see the variety of quality products for yourself! Visit their booth at CBD Expo Seattle or Detroit Cannacon in late June, Champs Trade Show in Las Vegas this July, USA CBD Expo in Miami, Greenrush in Illinois, US Cannabis Expo in Miami, or at Cannacon in Springfield this August. You can also visit their website for more information anytime at www.medicalmary.com