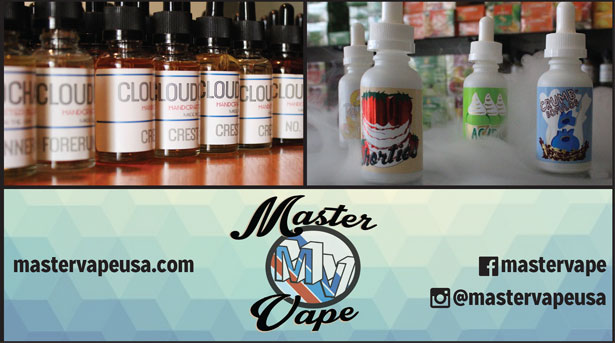 Master Vape
We are Master Vape, your one stop shop for the highest quality vaping products on the market.
Our mission from day one has been to bring the best customer service and research and development to the vaping industry, in order to make a company that not only puts the customer's needs first, but continues to stay current with the rapidly growing industry.

With a combined eight years' experience working in the field, we knew that with our collective expertis, we could create a company that makes it easy for the consumer to obtain the best products on the market, as well as a brand that the industry can trust to pioneer new and innovative additions.

It all began in the summer of 2014, with the launch of our house eliquid line, CloudChaser Handcraft ed Blends. Dissatisfi ed with other juice companies on the market, we designed Cloud- Chaser around the concept that complex fl avor profiles should not have to break the bank, and that corners should not be cut. We spent months formulating the eight fl avor line into what it is today, constantly researching which companies were off ering the most natural and vibrant flavorings to go into our blends. Now today, we have strong relationships with these companies to always ensure the utmost quality and consistency along all of our product lines.

With the continuous and growing success of CloudChaser, we decided that it was time to hit the market with another new line of fun and familiar eliquid avors, but this time with exceptional packaging and presentation. With that in mind, the Master Vape Signature Series line was born. Half the size of the eight avor CloudChaser line, the Master Vape Signature Series is only four easy to love avors that are sure to get you going;

• Ringz: Juicy and sweet peach rings candy – Reminiscent of easier times!
• Crumb-bopulos: Fresh baked blueberry crumble and decadent vanilla bean ice cream
• ACDC: Apple Cinnamon Danish Cupcake
• Shorties: Layers of plump strawberries, vanilla whipped cream and fl uff y, moist cake, piled high.

Debuted for the first time at the Champs Atlantic City trade show, the Master Vape signature series was an instant success – almost selling out of our entire cash-and-carry stock. We knew that WE thought the fl avors were good, but we were very excited to see that our hard work was also very well received by all of the fantastic Champs show patrons and exhibitors.
In our quest to offer as much for our customer base as we can, we have recently begun to dabble into the world of official equipment manufacturing for other shops and companies. We had come to realize that in our own personal journey to create wonderful and complex juice lines, we had compiled quite the impressive collection of fl avor concentrates. Armed with that and our knowledge of eliquid mixology, we decided it would be a fun and rewarding endeavor to extend our abilities to other businesses and create custom OEM lines, tailored to their liking.
In addition to creating custom OEM lines of eliquid, we at Master Vape have also decided to begin research and development on a CBD infused line of products. Going to all of the industry trade shows these past couple of years we have realized that CBD products are quickly becoming a massive part of the market, and we certainly are interested in experimenting with how we can utilize this to our advantages. CBD is a truly amazing component for multiple medicinal and therapeutic reasons alike, and here at Master Vape we can absolutely get behind that cause.

We will be attending the Champs trade show in Las Vegas this July, where we will be bringing all of our popular products and hopefully some fun new things to debut to the public!

For and questions or inquiries you can email us at mastervapeusa@ gmail.com or visit our website at mastervapeusa.com Follow us on Instragram @mastervapeusa and "like" Master Vape on Facebook to show your support!!

Founders: Julian Olajos 941-780-4611 and Austin Devine 561-891-0675

MasterVapeUSA.com