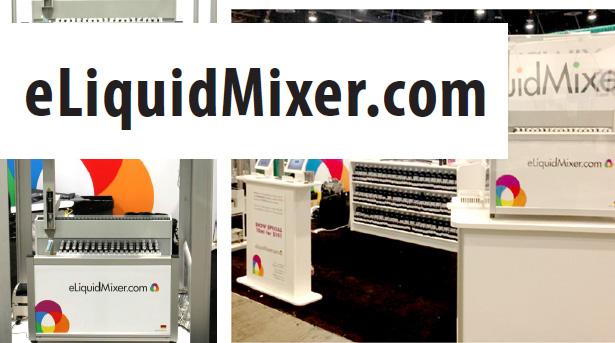 eLiquidMixer.com
A soon-to-be-released technology will take eJuice creation to the next level in 2015 by throwing open the door to consumers' endless creativity.
Developed in Germany and available in the United States beginning this spring, the pioneering eLiquid Mixer is the world's first automated eLiquid mixing machine. It allows retailers and their customers to customize and create any flavor, VG/PG base, and nicotine e-Juice combination imaginable in just under one minute.
The unit is currently in production, and the proprietary software is in its final stages. "The only public demonstrations thus far in the U.S. have been at CHAMPS and ECC," spokesman Carlos Robles, VP Client Relations says. "We will be shipping out units in the spring to approved vendors. These retailers will have the ability to offer the ELM service through their physical storefronts as an approved location."
With the release of the machine, the company's web site and mobile app will be released, as well. "Anyone will be able to order custom mixes and have them shipped to them from our clean room," says Robles, "or have the mixes picked up from their local approved vendor."
Freeing the Imagination

The audience, Robles feels, is "the vaping community, anyone who has desired to try a blend that they imagined." His company, he points out, has no direct competitors. "We are the only company in the U.S. that has been licensed as a distributor. There are no other mixing machines in the world. All current 'mixologists' are D.I.Y."
With the one-of-a-kind eLiquid Mixer robot, Robles says, retailers receive variety, money savings, ingredient quality and service features "simply not found elsewhere." Customers can choose between 96 proven flavors and desired nicotine intensities to create the most personalized vaping experience in the world. "As importantly, retailers will no longer have to store and inventory bottle after bottle of single flavors with differing nicotine levels. This allows them to free up their cash flow, as well as optimize and maximize the e-cigarette hardware and accessories in the retail space."
The cutting-edge mixing robot combines a choice of base liquids (VG/PG blends) with nicotine levels ranging from 0% to 3% to create as many as 96 different e-Juice flavors. Drawing liquid flavors from hygienic, crepe locked 40-ml decanters, the pharmaceutical- grade machine mixes a choice of 10-ml, 30-ml, or 50-ml bottles at the same time, with either matching or individual juice. The thermal transfer printer then creates high-quality personalized labels containing all FDA-required legal data, quantities, ingredients and expiry date as well as a specialized logo.
With eLiquid Mixer's customizable VG/PG base liquid control, 16 tobacco flavors, 80 fruit and other essences sourced from Germany plus its exclusive Emulation Flavor Library created in partnership with the world's most popular e-Juice brands, "not only will customers be lining up to make it their own they'll also be making your store their go-to spot," Robles says.
The variations are, indeed, nearly limitless, he explains. "Go custom by mixing up to 10 flavors in one, choose individual nicotine levels, create any combination of VG/PG base levels and save customers time and money. Or choose from a library of top-rated, popular e-Juice preset mixtures. From white-label blends to customized flavors for any customer, with the eLiquid Mixer you'll be at the forefront of the fast-growing vaping movement."
eLiquid Mixer fruit flavors are also exclusively made in Germany, in accordance with their General Food Law Regulation, and controlled by an independent analytical laboratory. All aromatized components are FEMA listed and/or classified by the United States FDA as GRAS (Generally Recognized As Safe) and are made according to ISO 9001:2008 quality assurance standards.
Custom eJuice

"The eLiquid Mixer's custom interface makes it incredibly easy for employees or customers to create white-label store blends, or their own favorite flavor lines," Robles points out. "You can create your custom e-Juice that either produces maximum smoke clouds (VG primary base) or a firm throat hit (PG primary base) by selecting any combination of VG/PG ratio."
An eLiquid Mixer point-of-sale purchase includes everything needed to take vaping businesses to the next level:

• the robot mixing machine
• a software loaded, back-of-house office laptop for technicians and/or store representatives
• compatible mouse and keyboard
• a high-end thermal transfer printer
• a touch-screen front-of-house end user terminal
Customers also have the option to order their e-Juice blend on the eLiquid Mixer website or mobile app and then choose direct-mail shipment from the eLiquid Mixer FDA-approved clean room or in-store pickup at a nearby authorized eLiquid Mixer location.
The company also offers an innovative Revenue Share Program, in which participating retailers will earn a portion of all sales completed through storefronts. Authorized retailers will be able to join the eLiquid Mixer Affiliate Program, where they can place a unique link on their websites to have their orders processed directly by eLiquid Mixer for even higher cost savings.
The eLiquid Mixer cleans itself automatically after each use, and its proprietary software saves each recipe so that the retailer or customer can access their personalized recipe to reorder time and time again, sparking strong repeat business. "Create flavors on the fly, save flavor pre-sets and create hundreds of thousands of e-Juice flavor combinations," says Robles. "It really is as simple yet as avant-garde as that."
What will fuel growth in the category in 2015, Robles feels will be what he sees as "the forward movement of the vape community. We have found a unique need in the market, and as the market increases so will this need."
His goal? "To have units available at local vape stores all across the United States."
The era of creating custom individual eLiquid mixtures and serial white label blends for retailers has begun.