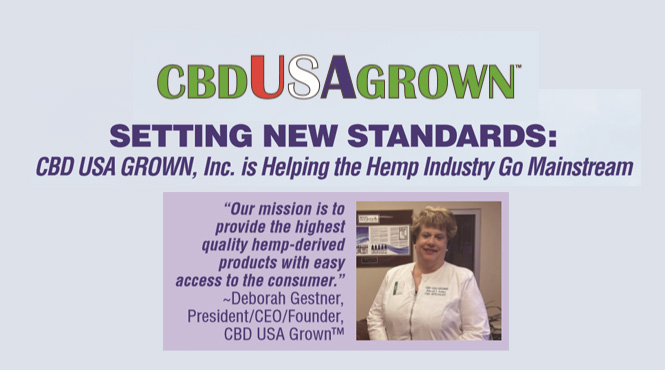 CBD USA Grown
www.cbdusagrown.com

As CBD crests a tidal wave of excitement in an industry that runs through wholly uncharted waters, companies like CBD USA Grown are taking the helm by writing the rules and keeping everyone on an even keel.

Riding that tide is a loyal fan base of consumers who swear by the healing properties of CBD. They believe CBD does wonders in relieving chronic physical pain to treating insomnia and post-traumatic stress to alleviating psychological ailments like anxiety and depression. CBD has the pharmaceutical industry caught with its tail between its legs, as CBD proponents claim that it may be our best weapon in fighting America's opioid epidemic.

Deborah Gestner, President, CEO, and founder of CBD USA Grown is a true believer as CBD saved her life.

For 19 years, Gestner took prescription opioids to deal with debilitating pain and later suffered from high blood pressure and Type 2 diabetes. Gestner longed for an alternative to prescription drugs, then she found CBD. Finding her own new relief, she decided to embark on a journey that lead her to a new path in life – CBD of the non-psychoactive kind.

Gestner also survived a horrific car accident in early 2018 that nearly took her life. That crash yielded her a Humerus bone fracture that left her arm unserviceable, and in the surgeon's mind with a possible shoulder replacement. Gestner ended up with one screw short of 24 that would have led to the more serious procedure. She made a full recovery in a few short weeks due to her use and belief in CBD.
"I found a product that helped me. I thought I can sell this, I believe in it," said Gestner. "I realized the shortfall of the industry, the weakness of how the industry was going about outreach to customers; they weren't approaching it correctly."
Running a Tight Ship — Setting the Standard and Educating Consumers

Gestner sought to improve the industry by setting the bar higher. That meant initiating a standard that would include quality, infrastructure, transparency, lab testing, and truth in labeling. It also included educating consumers about what they should be looking for when purchasing their CBD.

Gestner was the first woman asked to join the Board of Directors for the U.S. Hemp Roundtable, an organization primarily responsible for getting the 2018 Farm Bill passed. The Roundtable joins hemp leaders from the largest US-based CBD companies to aid in advising the government on regulating the overall HEMP industry for ultimate consumer production.

She launched CBD USA Grown in 2017 out of Pittsburgh, Pennsylvania. Using her business savvy knowledge, she nabbed a prime spot right on the tarmac of the Pittsburgh International Airport, securing her headquarters in Foreign Trade Zone #33. This gave her a distinct advantage — the ability to distribute CBD hemp products globally and operate more cost effectively than her competitors. Today, CBD USA Grown is the first and only company licensed to ship CBD to Russia.

Going Mainstream — CBD USA Grown Taking CBD to a Higher Standard

CBD USA Grown is a wholesale CBD bulk and white label distributor of 60 pharmaceutical-grade, broadspectrum, hemp-derived, 0.0 percent THC, CBD products. This includes soft gels, tinctures, balms, creams, bottled water, cosmeceuticals, and animal health products. The company's CBD is sourced from the top growers and extractors in North America.

Her latest endeavor, America's CBD Store, was established in a Pittsburgh suburb in October 2019. Gestner installed the HEMP (Help Educate Misinformed People) Desk, a place where customers can come in and ask questions to end the misconceptions about CBD.

Gestner sites four factors and a mission that allows CBD USA Grown to lead the industry: Trust, quality, verification, and validation. "Our mission is to provide the highest quality hempderived products with easy access to the consumer," said Gestner. Companies that abide by that standard will be the ones that turn the tide for the CBD industry.

For more information about CBD USA GROWN and its full line of products, email sales@cbdusagrown.com or call 724-318-5001.