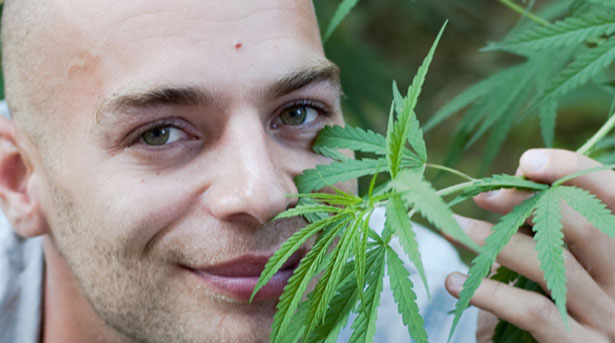 Can CBD Cure Cancer?
No one is saying yes quite yet -- but the research is beginning to suggest that one day, it just might.

Nearly 1.7 million people are affected by cancer in the United States each year. In January, former Dukes of Hazzard star John Schneider and his wife Alicia Allain made the media rounds talking about how CBD helped her beat stage-four cancer in five months.

Allain told Fox Business' Stuart Varney that the cancer was found on her legs, arms, rib cage and spine. "It was conditioning my body to fight it. I don't have a genetic marker for cancer at all. So if my DNA had a break in the system, how do we get my DNA back to… normal?" Schneider was also onboard, suggesting that CBD helped make his wife "more receptive" to medication and dietary changes, and helped render her body "more aggressive in fighting it."

Could it be true?

Cannabics Pharmaceuticals Inc., a leader in personalized cannabinoid medicine focused on cancer and its side effects, announced recently that in a series of tests conducted at the company's High Through-put Screening (HTS) facility in Israel, it has been shown that the cannabinoids CBC (Cannabichromene) and CBG (Cannabigerol) both exhibit anti-tumor properties when tested on human Gastrointestinal Cancer Cells.
"CBC is an additional non-psychoactive cannabinoid and is one of the naturally occurring Phyto-cannabinoids. It bears a host of potential positive therapeutic qualities and may promote antimicrobial, anti‐inflammatory, analgesic, and neurogenesis activity. It is particularly found in younger cannabis plants, albeit in small quantities," the company said in a release.
In the tests, the HTS platform was utilized to screen the necrotic effects of a variety of cannabinoids on human gastrointestinal cancer cells, in addition to other cancer types previously tested. CBC and CBG were both shown to induce significantly higher rates of necrosis in these cancer cells compared to other cannabinoids, thus strengthening previously obtained results.

'Working Assumption'

Cannabics Pharmaceuticals is a publicly-held company that is working to develop a platform that leverages novel drug-screening tools and artificial intelligence to create cannabinoid-based therapies for cancer that are more precise to a patient's profile. By developing tools to assess effectiveness on a personalized basis, Cannabics is helping to move cannabinoids into the future of cancer therapy. The company's R&D is based in Israel, where it is licensed by the Ministry of Health to conduct scientific and clinical research on cannabinoid formulations and cancer.

According to Dr. Yaakov Waksman, the company's head of cannabidiol research, "My working assumption is that these results show that a correlation may exist between a cannabinoid's Topological Polar Surface Area (TPSA) value and its ability to induce anti-tumor activity, diminishing cancer cell's viability rates. CBC and CBG, as neutral cannabinoids, were both found to have a TPSA value which allows the cannabinoid molecule to penetrate a cancer cell's membrane, whereas their acidic form (CBCA and CBGA) -- do not. This could explain the difference in anti-tumor activity rates demonstrated."

Dr. Eyal Ballan, CTO and co-founder, commented that "Gastrointestinal cancers are amongst the leading and most wide-spread causes of cancer-related deaths worldwide. We are intrigued by the results we have obtained in the lab, and our aim is to consider placing an emphasis on this organ system, and to further explore the differential anti-tumor properties of cannabinoids. We believe that these preliminary results vindicate our vision, which is to bring personalization into cannabinoid-based cancer treatments."

More Evidence

Whether it ultimately turns out to be a full-fledged cure or not, CBD is already helping cancer patients in a variety of ways.

According to Vents magazine, the benefits of using CBD oil for cancer patients include pain relief, help with nausea and vomiting, reducing tumor growth and help with anxiety and sleep problems.
"Researches are looking for a solution to this chemotherapy side effects, and they have found CBD a useful product for treating these chemotherapy effects," the publication noted. "CBD contains a wide range of non-psychotic compound which offers a variety of benefits to cancer patients."
In a recent interview, Manuel Guzmán -- Professor of Biochemistry and Molecular Biology at Complutense University of Madrid, member of the Spanish Royal Academy of Pharmacy, and member of the Board of Directors of the International Association for Cannabinoid Medicines – sounded hopeful about the state of research on cancer and cannabinoids:

"Practically all the research carried out to date on cannabinoids and cancer cells has used cancer cells cultured on plates or animal models of cancer (generally mice, sometimes rats). Based on numerous scientific studies, various cannabinoids… exercise a wide range of effects that inhibit the growth of cancer cells. These include: (a) Activating cell death through a mechanism known as "apoptosis". (b) Blocking cell division. (c) Inhibiting the formation of new blood vessels in tumors, in a process known as angiogenesis. (d) Reducing the metastatic capacity of the cancer cells, preventing them from migrating or invading neighboring tissues.

"To sum up," he added, cannabinoids appear to be effective substances for the experimental treatment of at least some types of cancer, at least in small laboratory animals."

It's a start. And it's promising.