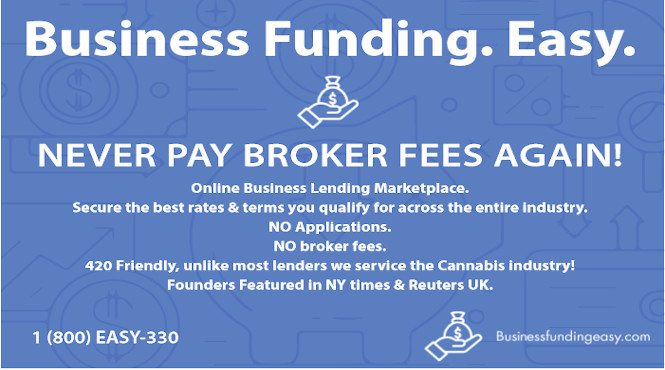 Business Funding Easy
Business Funding Easy was founded by Josh Gasteratos, an 11 year Wall Street veteran, and expert financial advisor, who has been featured in NY Times and Reuters UK for his knowledge within the business lending industry. In his work as a financial advisor, fiduciary, and private client group managing director, Josh noticed a trend in Wall Street as technological advances became more integrated. He witnessed as automation began taking over the circuit, and realized the complications that were caused by the severe lack of technology and automation being integrated within the finance industry to follow suit. Josh saw the opportunity to add value and excel in a highly competitive industry, so he set out to help business owners tackle their financial needs without the old-age struggles by offering the easiest solution possible, and introduce them to Business Funding Easy!

Business Funding Easy is essentially a business lending marketplace that works with multiple lenders to match the applicant with the best possible offers and the best possible terms for a particular business' capital needs, all without initially pulling any credit scores. (Only before offering a contract, the matched-up lender may pull your credit.) Business Funding Easy specializes in a variety of business loans ranging from Term loans, MCAs (Merchant Cash Advances), Lines of Credit, Equipment Purchase Loans, and Asset-backed Loans. Their goal is to match a business with the best possible lender to meet their needs, without any egregious application or broker fees, and with the quickest available turn-around times.
Cannabis, Smoke, and Vape Industry companies often run into trouble when it comes to getting business funding, either being turned away by lenders, or, more often, being offered unfair terms and rates. Business Funding Easy is committed to being a friendly lending marketplace for business owners in cannabis and counter-culture industries, from vape shops to a cannabis grow op, they will guarantee your business the best rates available, across the board. In some cases, Business Funding Easy is even able to find a rate better than what one may actually qualify for, due to being such a large-end operation with a lot of background within the financial sector.
The financial industry may be notorious for unscrupulous activity, but having a stellar track-record on Wall Street, and within corporate culture, business owners feel safe and comfortable knowing that their information is secured with the highest level of integrity and professionalism that is backed by Business Funding Easy. Their solution enables business owners to secure the capital they need with a 93.5% approval rate. They pride themselves on safeguarding ethical practices, while optimizing overall added value and capital to business owners. "We are proud to be able to help hard working business owners save so much money while still operating as a profitable company." Finding the best deals they can get for a business in the industry is what they are known for, but eliminating the broker and application fees entirely adds to the good will of their overall mission.

So, how does one best utilize the Business Funding Easy solution? The process is fairly simple. Just fill out a one-minute questionnaire on the businessfundingeasy.com website, where they will match you with offers instantly. Sometimes a dedicated business loan specialist will manually submit your file to lenders to help you secure the loan that's best for your business. Once deciding on the best offer for your business's needs, you can sign the agreement and have funds transferred into your business bank account as fast as the very same day. Or, you can contact them directly at 1 (800) EASY-330 for a free, realistic consultation to define your needs and expectations, discuss options pertaining to your business's financial needs, and receive dedicated help choosing the best loan for your specific needs. To get the process started, first fill out the 1-minute questionnaire online at businessfundingeasy.com